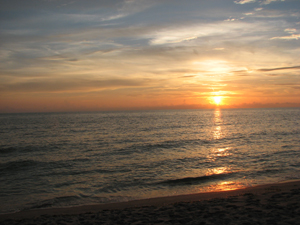 I have returned from vacation and the beach. The vacation was a great time. The family was good and the weather mostly favorable. I think my wife liked the ocean despite little annoyances like sand, sun, and mosquitoes. Hope we can all do it again. Captiva (and the beach) in general represent my truly favorite places of solace and peace.
I must say that iPod I bought and took to the beach was super cool. I mean, I really like walking along listening to nothing but the breeze and the waves, but sometimes its nice to listen to something more human while watching the sunset or the tides. On that note, iPods are super cool. I only wish you could randomize play within a playlist. Another thing… Why is the iPod and electronic device that can't be listened to during airplane takeoff? It doesn't emit a signal. And it's damn cool to listen to something fast pace during the initial surge. I know. I did it all the time with my Sony Walkman as a kid. Of course I was listening to recordings of Boss Fights from NES games… Ah childhood…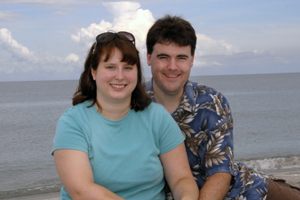 I fully intended to drop some entries with pics from the beach, but I simply didn't have time. Relaxing is a lot of work.

Re-entry has not exactly been easy. I hear my sister lost her medical feeding bag. My auntie Kim (and her little dog) were accosted by an Air Marshall. You know, one of the 1% that are actually on flights. Myself? Well I made it home with all my luggage intact but have had a number of mishaps Monday morning.
The e-mail and task list is piled high. We lost an associate to termination (yeah, that's a nice way of saying it) so that means even more work. I'm telling people I'm not yet back on the horse, merely being dragged in saddle. But over all I think I'm getting it under control. I'm using a little lunch break here to eat some tuna, take a breather, and write this post.
In other news, I've finally started playing World of Warcraft with my wife, and close friends. And <sigh> it is a good game and very time consuming. I'm sure there will be some website changes to reflect our new and growing interest. If you are in WoW on Draenor drop a shout to Kethsari the Rogue.
Well I think that's about it for this shout out. Signing out.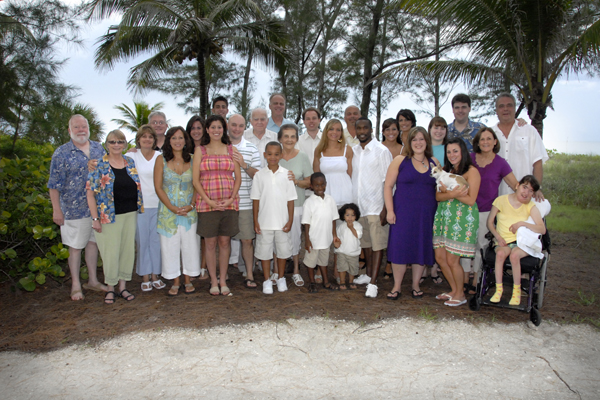 ---
| | |
| --- | --- |
|   Current Mood: Exhausted      | Listening To: Knee Deep and Down – The Rain Band |